Cymbals
Cymbals are of ancient origin and are referred to in the Bible (Praise him with the clash of cymbals, praise him with resounding cymbals. Psalm 150). Cymbals have been used to mark the beginning of chanting in prayers and musicians are shown in cave paintings 2000BC. China is credited with being the oldest cymbal-making country but there is evidence suggesting that their country of origin is India or Turkey, with cymbals coming to China from Tibet.

Sound, Workings and Use
Chinese cymbals are different from other cymbals. Turkish cymbals are flat and sloping from the centre boss to the edge, and only the outer rims meet. They have a definite pitch and can be played in a number of ways to accompany a range of music. The shape of the cymbal and the metals used in making the Chinese cymbal, results in a brittle sound and texture so it has an indefinite pitch and is limited to making crashing sounds. It is mainly used in bands and orchestras for special effects, and to make a dramatic thunderous sound. Cymbals are made of brass. The metal is melted and then cooled, and the instrument can be made by hand or machine - this one is hand-beaten.

The cymbal is played in traditional Chinese music. Traditional Chinese music is composed of short instrumental pieces based on stories and legends, nature or true events. Both the Chinese gong and cymbal are percussion instruments, and are often used in the same way. They are played during the Chinese New Year festivities, as a way of warding off evil spirits and as an accompaniment to ceremonial dances such as the Lion and Dragon dances. They are also used to punctuate the performance in Chinese Opera.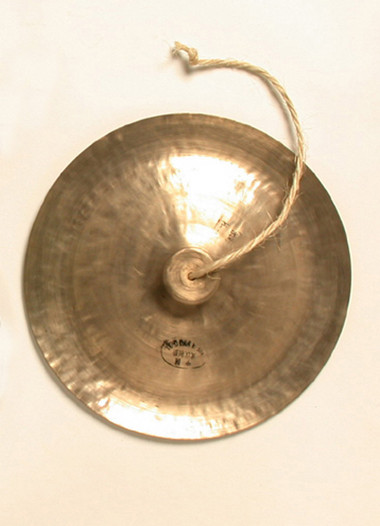 Cymbal Diameter:30cm