Gongs
According to Chinese tradition, gongs came from the western region between Tibet and Burma. They are mentioned as early as the 6th century, in the time of Emperor Hsuan Wu.

The Chao gong is a percussion instrument of indefinite pitch. This means that it can only sound the same kind of note and not a scale or higher and lower notes. It is similar to the Chinese tam-tam, a large flat gong 70cm or more in diameter, with a shallow lip and, again, indefinite pitch. A genuine Chinese tam-tam was used to record the strokes heard on the J. Arthur Rank film trademark.

This gong is made from brass. It is cast, then hammered, smoothed and tuned. Finally it is polished and decorated.

Gongs are used in several ways in Southeast Asia. In processions the gong drives away evil spirits; it announces departure aboard a ship; it is the signal for the outbreak of fire; in songs it marks the tune. A small gong may announce a sweet peddler and his cart of sweets. A large gong may trumpet the approach of an official with his retinue. In Buddhist temples the gong is beaten to call the attention of the spirits.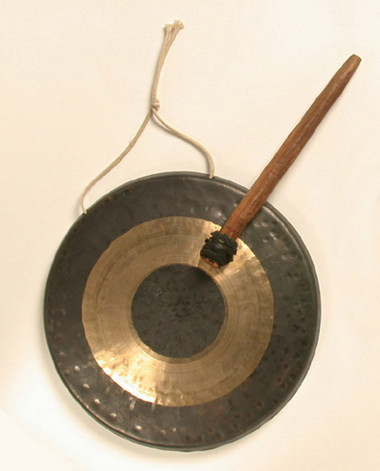 Gong Diameter:30cm