Sound & workings
One of the instrument's names is ananda lahari meaning 'waves of joy.' This is a literary name and in the countryside it is better known as gubgubi or khamak - khamak from the sound that the instrument makes when it is played. Although it looks like a drum, the main sound is produced by plucking the string, so it is classed as a stringed instrument - a variable tension chordophone. It is a unique Indian type of instrument known as a 'plucked drum' and is part of a family that includes the ektara and dotara (one-stringed and four-stringed plucked drums.)

How it is made
The khamak tends to be made by the musicians themselves using natural materials found locally. Different varieties of khamak are made using wood, metal, gourd or clay resonators. The varying drum materials give quite different sounds. Traditionally the string is made with a length of animal gut. Baul instruments are of a simple design.

The Baul
The Bauls have lived in West Bengal, in the extreme northeast of India for hundreds of years, perhaps a thousand. Traditionally, they were a religious sect who wandered the countryside, singing their religious songs. Baul beliefs are a mixture of many influences and traditions, such as Hinduism, Sufism and Yoga. The songs are often sensuous and erotic; they speak of devotion to God, but can easily be understood as declarations of human love or love for humanity.

Baul music is unlike other traditional Indian classical music. All of the instruments played are ancient in origin. The songs are simple, and sung with intense emotion. The music is approachable - unlike many forms of Indian classical music, no special knowledge or study is needed to fully appreciate Baul music. Baul musicians wear dhotis, a saffron turban and robes and beads made of basil stems, and they sing and dance to the music that they play.

Contemporary relevance
Today, Baul music is played throughout the Indian sub-continent in concerts and at special events. This music has gained a wider audience through performance at international 'world music' festivals and is currently undergoing a revival. New musicians are using the traditional instruments such as the khamak, and fusing the songs with modern beats and sounds to give it a popular and contemporary sound. Its appeal has widened to take in the younger generations.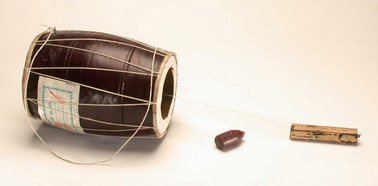 Drum Length:22.5cm