The Mobo Magic Pushchair dates from the 1930s, and was used by a child to push a doll or teddy around. The pushchair is made out of metal, painted red and white, and is now very scratched and rusty.

The doll or teddy was positioned on the seat leaning against the back support, and strapped into the plastic harness. (Sometimes, the ride got bumpy and the toy could fall out if it was not secured.) The plastic harness is attached to a metal lever that is bolted to a mechanism at the base of the back support. Two rods that run up the inside of the white handle poles activate the mechanism. By squeezing the handle at the top of the poles with alternative hands the rods activate the metal lever which makes the plastic harness move from side to side. This animates the doll or teddy who will move from side to side, as if all by themselves.

The words Mobo Magic are painted onto the footrest of the pushchair. The child pushing the pushchair could squeeze the handle without anyone realising, and the doll or teddy would move independently - as if by magic!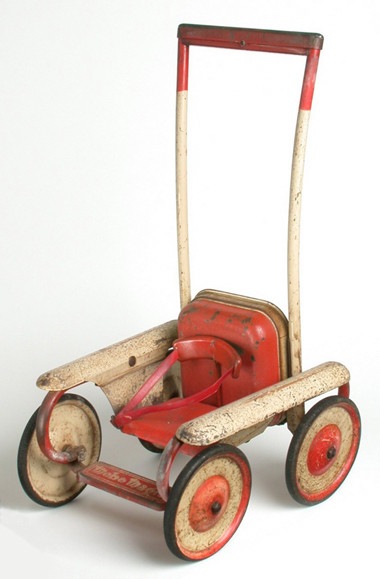 Height:62cm