Do you know a small child who would like to play with this? And haven't you seen (and played with) toys like this? This replica toy, a wooden horse on wheels, is like one in ancient times used by young Greeks and Egyptians, as well as Romans.

Gripping, pushing and pulling are some of the first actions young children learn to do. Toys that respond to these actions have always been popular, and those made for Roman children were no exception.

The horse is hand-carved wood and the wooden wheels are turned on a lathe. The four wheels are substitutes for legs and are attached on either side to the body. The wheels have to be free to spin to let the horse move, so they are fixed by an axle bored through the body. A pin stops each wheel from falling off. A piece of string is threaded through a hole in the horse's nose so that the toy can be pulled by the child. The toy is quite low to keep it stable when it is pulled over rough ground.

This is a replica of toys found in Roman burial sites.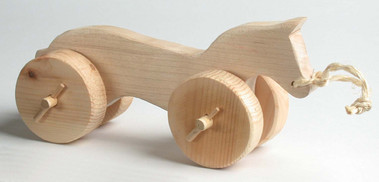 Length:21.5cm