In the 19th century it was usual for middle and upper class men and women to wear gloves outdoors. In fact, it would have been considered inappropriate for ladies and gentlemen not to wear, or carry, a pair of gloves.

There were gloves for every occasion - daytime visiting, shopping, going to the theatre and attending balls. If they could afford it, women had many different pairs of gloves to match their outfits. They wore gloves to parties - and so did men. A pair of white gloves was the finishing touch to a man's dress suit.

Gloves were made in a variety of fabrics but 'kid' was very common. Kid is very fine leather, which fits over the hands like a second skin if the gloves are well made. Glove stretchers were used to open up the fingers of gloves before they were put on. The stretchers are two strips of wood with rounded ends. They are hinged in the middle so that when the stretcher has been put into the glove-finger it can be opened up, stretching the finger out.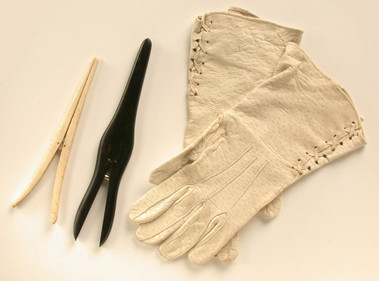 Black Glove Stretchers Length:19.7cm