This is a starched collar fashionable for men from Victorian times to the 1920s. Typically it was worn as part of formal day dress with a wide tie, a double-breasted frock coat and contrasting trousers. It was attached to the shirt collar with buttons at the front and a small stud at the inside back. These attachment holes can be seen if you look carefully at the picture. There are manufacturers markings inside the collar as well as collar size

As well as collars, cuffs were also detachable from shirts. It meant that it was not necessary to wash the whole shirt, just the collars and cuffs. These were usually the things that got dirtiest. Washing was one of the hardest chores of the week. As there was no electricity or plumbing, all the heating of the water, washing and ironing was done by hand.

Whites, including collars and cuffs, had to be soaked in cold water and soap overnight. The next day they would be scrubbed against a washboard with some soap and a stiff brush to remove any stubborn stains. Then they were boiled in the copper, the metal container in which water was heated. On the last rinse, 'blue' was added to the water. This was a very fine powder sold in a little linen bag. It had to be added otherwise the soap turned the whites yellow.

Once dried, the collars and cuffs had to be starched. This stiffened them and gave them a gloss. The starch powder was mixed with cold water to make a paste. It was rubbed directly onto the collars and cuffs. Finally, collars and cuffs were ironed.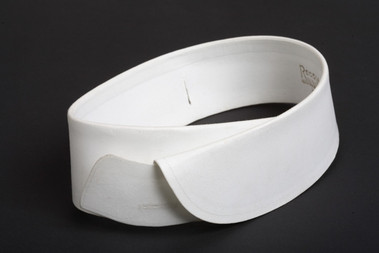 Circumference:41cms