The Tudors' lifestyle was different from ours, and they had different views on, and solutions to, health problems and treatments. A few examples show this. A solution for rheumatism was thought to be wearing the skin of a donkey. Eating nine lice mixed with beer could cure a bad liver. Placing half a mouse on warts, and then burying the mouse in the ground could treat warts, as the mouse rotted the warts would dissolve. A cure for the plague was to hold a live chicken against plague sores until the bird died. Medical knowledge was not as advanced as it is now, so many of these solutions have long been disproved.

The Tudors thought that blood letting was the best solution to the majority of symptoms, based on their assumption that too much blood in the body caused disease. The Tudors believed that there were four main body humours; blood, yellow bile, black bile and phlegm. If these humours became imbalanced then they would case disease. Making a patient vomit, or bloodletting was supposed to redress the balance. The Tudors also identified five types of mental disease, mania, or violent action; melancholia, or depression; delirium, or abnormal behaviour and fever; amentia, or loss of mental ability, and phrenitis, or inflammation of the brain. These types of disease were believed to be triggered by an abundance of black bile flooding the brain, so again, bloodletting was seen as a solution, along with music, and a herb called pennyroyal worn around the neck.

Any process needs tools, and a key tool for bloodletting were leeches. A leech is a small bloodsucking worm that likes to live in water. A leech will attach itself to the skin with its three sharp teeth. After injecting an anticoagulant into the skin it will then suck blood out of the body. Once full the leech falls off, and will be unlikely to need another blood meal for months. The Tudor surgeon would scratch the skin to make a wound and attach the leech to remove the blood. In between meals the leeches needed to be kept alive, and small ceramic pots filled with water and kept cool provided ideal homes. Leeches needed room to crawl, but not to escape; therefore the pots had to be covered. A cloth lid provided both light and air to allow the leeches to breathe and be contained.

Leeches are still used today by micro surgeons to keep delicate areas of tissue decongested during the healing process. And although we have far more cures and techniques available now, our lifestyle has created new health problems that would have been unknown in Tudor times.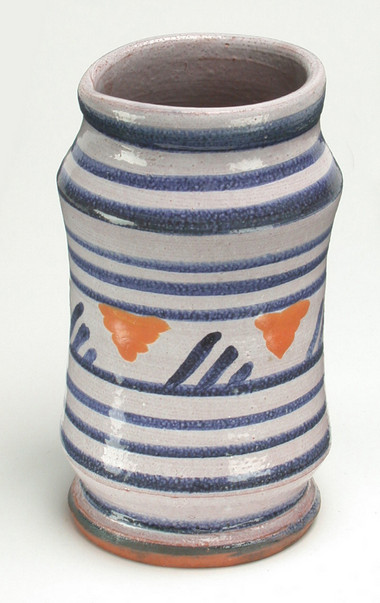 Height:13cm