The kettle is a standard household tool - we need boiling water for cooking, cleaning, warmth, washing and sterilising. The electric kettle, first designed by Arthur Large in 1923, has made this common process easier and safer.

Most kettles are used to boil water several times a day. Metal kettles in particular retain heat and a hot handle will burn the user. Using different materials for the handle is a common solution. Plastic, or Bakelite, protects the user from burning. The position of the handle in relation to the body is also important. The handle on many early kettles was positioned over the lid of the kettle. If the lid fell off, or leaked steam, the user could still be scalded. Designers of jug style kettles, developed in the mid twentieth century, positioned the handle on the side of the kettle, thus solving this problem.

The spout of the kettle presents another challenge. Boiling hot water produces steam that can be scalding hot. The spout needs to be pointed away from the body of the kettle to prevent the rising steam billowing onto the user's hand.

Once the water in a kettle begins to boil it starts to evaporate as it converts to steam and escapes through the spout. If no one notices that the water has begun to boil then the kettle will eventually boil dry. When empty, it will begin to burn and melt. To overcome this, designers developed a mechanism in the spout that would make a whistling noise as steam started to pass through, alerting the user to the fact it was boiling. Today, electric kettles have an automatic switch-off device to stop the supply of electricity as the water starts to boil.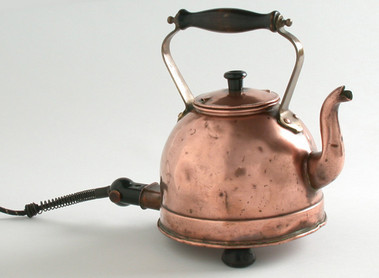 Height:25.5cm