Candles have been used for light for millennia, and have hardly changed. As early as 3000 BC they were use in Crete and Egypt. Until the 16th Century, candles were expensive in Europe and were not widely used except by the Church and wealthy families. But during this period ordinary people's lives improved. As they became less poor, they could afford things such as candles. Candles were sold, then, by the pound weight and they were usually made from tallow.

Tallow candles were made from animal fat, and wax candles from beeswax. Chandlers formed their own Guilds and located their industries near to farms and slaughterhouses. The simplest tallow candles were called dips and were made by hanging a row of wicks, made out of cotton onto a rod called a broache. The broache was dipped into molten tallow, removed, and the tallow allowed to dry. This process was repeated until the dip was the right thickness. More sophisticated candles were made in pewter moulds, the wick being held tight while the molten tallow was poured in.

Beeswax candles were regarded as superior to tallow, being less smoky, providing brighter flames, and smelling of honey. Beeswax was (and is) obtained by melting and straining a honeycomb to remove impurities. The resulting wax was then bleached in the sun. Most Wax Chandlers imported their beeswax from abroad.

The Tudors lit their homes and carried on their lives after sunset by candlelight, using a wide range of candles, candleholders and snuffers to maximise and maintain a portable lighting system. Candleholders were found in all Tudor households. Brass, iron and pewter holders were common. Wealthy families used holders made out of porcelain or wood. There were two styles of candleholder: a stationery candleholder that could be large enough to hold several candles at once to illuminate a family meal, or, as a candelabra, to hang from the ceiling, and the portable candleholder that was light enough to carry around the house, or show the way up to bed.

As a tallow candle burned, the wick would eventually drop over the side of the candle causing it to gutter, which was thought to be both unsightly and wasteful. To overcome this, a special pair of scissors was created to trim the wicks. They were called snuffers, and had a small box at the top of the cutting blades to contain the burnt wick.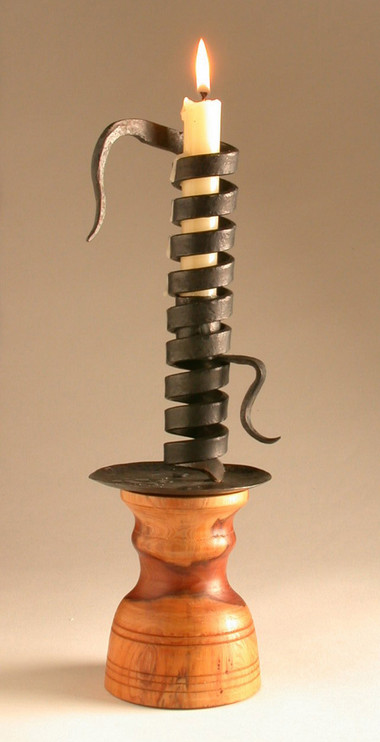 Height:33cm