How many different lights do you use in a day? A walk around a house will reveal many different lighting systems. We need bright spotlights in a kitchen so we can see clearly to prepare food. Lights inside a fridge come on only when the door is open, when we need to see inside. Bathroom lights are bright too and some combine with mirrors so we can shave or put on makeup in a good light. Bedside lights are often small as there is no need to light up the whole room when we just want read in bed. Sitting room lights can be very varied; uplighters and downlighters to create atmospheric pools of light, centre light fittings to cast a wide light over the entire room.

Our built environment requires lighting solutions. For example, streets are lit at night by lamps on tall posts, enough to allow us to see where we are going, but not enough to glare into bedrooms when we are trying to sleep. At home and work our lighting is static. We move around it as it is designed for a certain place in a building. When we need mobile lighting solutions, torches are useful, and the candle will take us anywhere and everywhere when the electricity fails.

The Tudors had only fire and candle power, so what they could achieve after dark was limited. Candlelight creates soot and smoke, thus adding to the dirt indoors. Candlelight is soft, flickering and attractive, but cannot be turned up or down, and more than one candle at a time would be needed for reading. Many Tudor families got up at sunrise to make the most of the daylight, and in the summer this could be as early as five in the morning.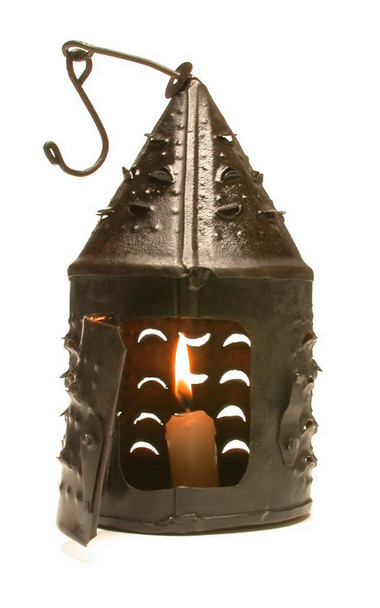 Height:12cm Base Diameter:10cm