Like many things in Victorian times, keeping clean was hard work. Working people had to fetch their drinking water from a pump or tap in the street. Bathtime happened once a week when they would heat enough water in pots and kettles on the range to fill a tin bath like this one. Then the family would bathe in it one by one in front of the fire, using the same water. It was warm but not very private.
Some wealthier people had a bathroom in their house, but plumbing did not arrive until the 1880s. If they did not have a bathroom, then the chambermaid would carry the bath up to the bedroom and fill it with hot water brought up from the kitchen. The bath, probably a hip bath which was more comfortable to sit in, would have been placed in front of the fire with screens placed around it to keep out the draughts. An extra jug was kept alongside to top up the water as it cooled.
This tin bath has two handles to make it convenient to carry. It would have been bought from the ironmongers. In the 1800s, tin was an ordinary household material particularly popular with working people because of its low cost and bright shine. Made of iron or steel rolled thin and dipped in molten tin, it was easy to manipulate, cut, and solder. Tin was used for nearly everything that copper, pewter, brass, or silver could be used for, but generally did not last as long.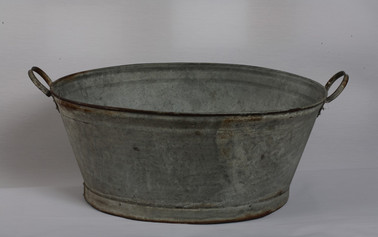 Length:49cm Height:28cm