Dairy Cows
The dairy cow gives birth to one calf a year and, like all mammals, makes milk to feed her baby. She will produce milk for up to ten months after the birth if she is milked at least twice a day.

The amount of milk a cow produces varies according to the breed, health, age of the cow and how well she is cared for and fed. Generally cows produce more milk in the summer when fresh food is plentiful. The average yield is 10 to 15 litres a day.

Aberdeenshire dairy cows, a popular breed in the 19th century, could produce as much as 31 litres a day in the months following the birth of a calf. The breed of cow kept in most London dairies in the 19th century was the Short Horn. This breed produced a good yield of milk, though not as much as Highland cattle. The advantage was that once the calfing period was over, cows were suitable for fattening up for the butcher. They would then be sold to Smithfield, the large London meat market. Today, the most popular breed in Britain is the black and white Friesian cow.

All milking was done by hand in Britain until the 1850s when mechanical devices were invented. Many of these were not only expensive but actually injured the cows and tainted the milk with blood. The transition to mechanised milking in the dairy industry was not complete in Britain until the 1970s.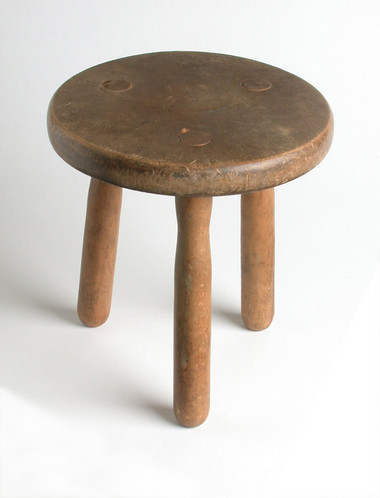 Height:22.5cm Diameter:21.4cm